November 21st, 2011 | Published in Player Deaths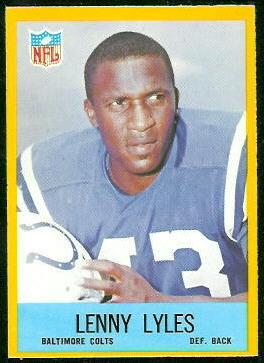 Lenny Lyles, a back and kick returner from 1958 to 1969 for the Baltimore Colts and San Francisco 49ers, passed away on November 20. The Louisville Courier-Journal web site has a report of his death and a recent photo. Lyles was a Pro Bowler in 1966, and he played in Super Bowl III, which the Colts lost to the New York Jets.
The card pictured here is Lyles's rookie card, a 1967 Philadelphia, issued in his tenth season in the NFL. He also appeared on a 1968 Topps card, a 1969 Topps card, and a 1969 Glendale stamp.