November 9th, 2011 | Published in New in the Gallery | 1 Comment
This week I added 1972 Auburn Tigers Playing Cards to the Vintage Football Card Gallery. The set is a standard 52-card deck, plus 2 jokers. Fifty-one of the standard cards picture Auburn players, and one, the ace of spades, pictures head coach Ralph "Shug" Jordan. The jokers are Cliff Hare Stadium and Auburn Memorial Coliseum.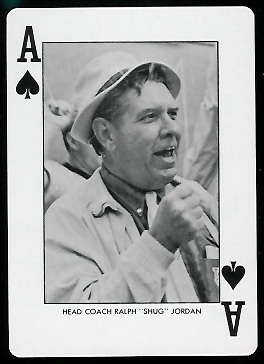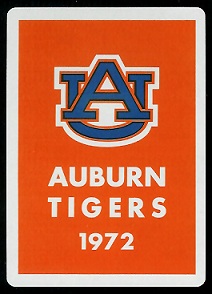 The 1972 Auburn team finished 10-1 and was ranked #5 in the country in the final AP poll. 1972 was also the season of the famous "Punt, 'Bama, Punt" game, in which Auburn beat Alabama 17-16 by blocking two punts in the fourth quarter and returning them for touchdowns. Bill Newton, who blocked both punts, and David Langner, who returned both of them for touchdowns, are included in the deck of playing cards.
Though Auburn had a great season in 1972, I counted only five players in the deck who went on to play in the NFL. (By contrast, fifteen players in the deck of 1974 Colorado Buffaloes playing cards got playing time in the NFL, and the 1974 Buffs finished just 5-6.) Here are the Auburn players who saw NFL action:
The 1972 Auburn Tigers set is one of several decks of 1970s playing cards that picture players from college teams. For more, see my earlier blog article, "P is also for Playing Cards."