November 4th, 2011 | Published in error cards, Sites I Like
While doing some web searches the other day, I ran across a long page of photos of Bo McMillin. McMillin was an All-American quarterback at Centre College in 1919 and 1921, and he played a few games in the NFL with the Milwaukee Badgers and Cleveland Indians. After his playing days, he had a long coaching career, including four seasons as an NFL head coach. There is a short biography of McMillin on the Centre College web site.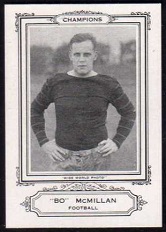 Reading the commentary in the long page of photos, I learned that McMillin's name is misspelled on both his 1955 Topps All-American card and his 1926 Spalding Champions card. It is spelled correctly in my Beckett price guides, but the cards are not noted as errors, so the errors were news to me. I also learned from the photo page that the image on McMillin's 1926 Spalding card is not McMillin, but another player. If you put the card next to one of his other photos, it is clear that the Spalding card pictures someone else. Does anyone recognize the impostor?
Having learned about the mistakes, I fixed the spelling of McMillin's name on my two web sites, noted the errors on his individual cards, and added his 1926 Spalding card to my page of football cards that picture the wrong player. Whew!