August 27th, 2011 | Published in Player Deaths | 2 Comments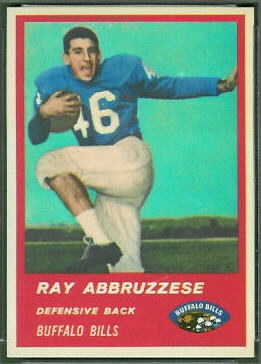 Ray Abruzzese, a defensive back from 1962 to 1966 for the Buffalo Bills and New York Jets, passed away on August 22. He was a member of Alabama's NCAA National Championship team in 1961 and a member of Buffalo's AFL Championship team in 1964. I found a photo of the Alabama team on the university's web site and a photo of the Bills team at livingprimetime.com.
Abruzzese had two football cards with the Bills, and both are error cards. His rookie card, the 1963 Fleer card pictured here, has his last name misspelled. The error on his 1964 Topps card is worse: the card pictures Ed Rutkowski, not Abruzzese. (For more cards that picture the wrong player, see my Mistaken Identities page.)
Abruzzese also appeared on a rare–and pricey–1963 Jones Dairy milk bottle cap. His name is spelled correctly on the cap, and the picture on it is his. I do not have the cap, but I found a clear image of one in an eBay listing.