August 25th, 2011 | Published in Halls of Fame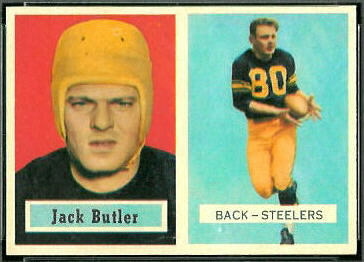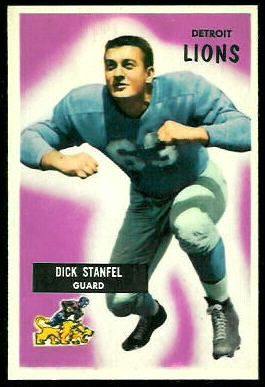 Dick Stanfel and Jack Butler were named yesterday as the 2012 senior finalists for induction into the Pro Football Hall of Fame. You can read the announcement and see the players' biographies on the Hall of Fame site. This is the second time Stanfel has been chosen as a senior finalist; the first time was in 1993.
In the 1950s, defensive players and offensive linemen often got short shift, card-wise, and that is the case with these two players. Butler, a defensive back, played for the Steelers from 1951 to 1959, but he did not appear on a football card until his seventh season, 1957. His rookie card, a 1957 Topps, is pictured here. He also appeared on 1958 Topps and 1959 Topps cards.
Stanfel, who played from 1952 to 1958 for the Detroit Lions and Washington Redskins, was a five-time first team All-Pro at guard. He appeared on just two football cards, his 1955 Bowman rookie card, pictured here, and a 1958 Topps.
Chances are very good that at least one of the two senior nominees will be elected to the Hall. The Senior Nominees page of the Hall of Fame web site shows that at least one senior candidate has been elected each year since 1998.