August 12th, 2011 | Published in Player Deaths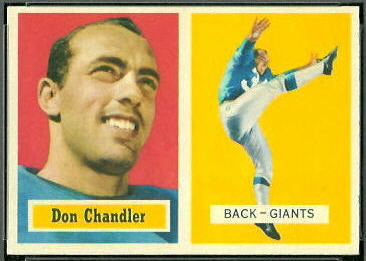 Don Chandler, punter and kicker from 1956 to 1967 for the New York Giants and Green Bay Packers, passed away on August 11. Chandler played on four NFL Championship teams: 1956 with the Giants, and 1965, 1966, and 1967 with the Packers. He made the Pro Bowl in 1967, his last season, and he was inducted into the Packers Hall of Fame in 1975. The Packerville, U.S.A., blog has a summary of Chandler's career, along with several pictures.
The card pictured here is Chandler's rookie card, a 1957 Topps. He appeared on several others, as well. You can see all of Don Chandler's cards in the Vintage Football Card Gallery.