August 6th, 2011 | Published in error cards, New in the Gallery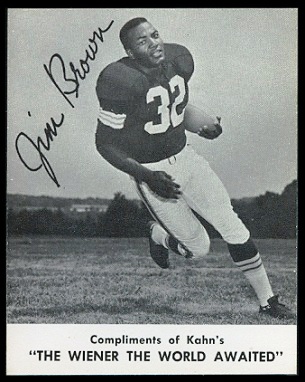 Last week I added 1961 Kahn's Wieners cards to the Vintage Football Card Gallery. There are 36 cards in this Kahn's set, with 32 being Browns and Steelers. Kahn's was (and still is) based in Cincinnati, and Cleveland and Pittsburgh were the closest pro teams at the time.
The other four players in the set–Frank Varrichione, Will Renfro, Jimmy Orr, and Joe Lewis–were with either Cleveland or Pittsburgh the previous season. It appears that Kahn's intended to make the set all Browns and Steelers, but these players moved, so Kahn's simply changed the teams on the backs of their cards.
Two of the cards in the set, Tom Tracy and Larry Krutko, have their images swapped. This is especially unfortunate for Krutko, because I believe that this is his only football card. (For more old football cards that picture the wrong player, see my Mistaken Identities page.)
The set includes a pre-rookie card of Gene Hickerson. Hickerson had more pre-rookie cards than any other Hall of Famer I can think of: he appeared in the 1959 through 1962 Kahn's sets, and on a 1962 Post Cereal card.
Thanks again to Mike Ford, who provided images for several of the Kahn's sets.