July 26th, 2011 | Published in Player Deaths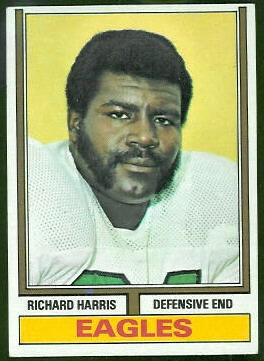 Richard Harris, the assistant head coach and defensive line coach of the CFL's Winnipeg Blue Bombers, passed away this afternoon. The Winnipeg Free Press web site has a report and a recent photo. Harris was a defensive lineman in the NFL from 1971 to 1977, playing for the Philadelphia Eagles, Chicago Bears, and Seattle Seahawks.
Harris appeared on one football card during his playing days, the 1974 Topps card pictured here. He also appeared on a 1972 Sunoco Stamp.