July 20th, 2011 | Published in Player Deaths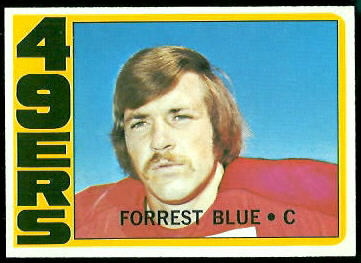 Forrest Blue, who played center from 1968 to 1978 for the San Francisco 49ers and Baltimore Colts, passed away on July 16. Blue was a four-time Pro Bowler for the 49ers, twice on the first team. There is a report of Blue's death on the San Francisco Chronicle web site–and a photo of him scoring his only NFL touchdown.
The card pictured here is Blue's rookie card, a 1972 Topps. Another card of note is his 1974 Parker Brothers card. As I showed in a previous blog article, it is one of the few Parker Brothers cards that has a different image than its counterpart in the 1974 Topps set.
You can see all of Forrest Blue's cards in the Vintage Football Card Gallery.