July 1st, 2011 | Published in Brothers, Player Deaths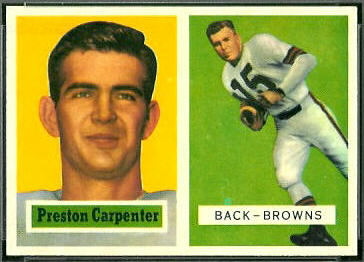 Preston Carpenter, who played twelve seasons for the Cleveland Browns, Pittsburgh Steelers, Washington Redskins, Minnesota Vikings, and Miami Dolphins, passed away on June 30. Carpenter played halfback for the Browns in his rookie season, 1956, then spent the rest of his career as a receiver. He made the Pro Bowl in 1962 as a tight end with the Steelers.
Carpenter's older brother, Lew, who also had a long NFL career, passed away last fall.
The card pictured here is Carpenter's rookie card, a 1957 Topps. He appeared on numerous other cards during his career, as well.