April 21st, 2011 | Published in Player Deaths | 1 Comment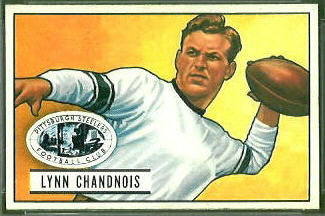 Lynn Chandnois, a back and kick returner for the Pittsburgh Steelers from 1950 to 1956, passed away on April 19. Chandnois was a two-time Pro Bowler, and he still has the NFL's second-best career kickoff return average, behind Gale Sayers. According to the Detroit Free Press, Chandnois also still holds the records at Michigan State for most career interceptions and interception return yards.
Chandnois appeared on a card from a major card company every year from 1951 to 1957, which is remarkable for the time. Pictured here is his rookie card, a 1951 Bowman. His 1955 Bowman card is an error card; it has his name spelled "Chadnois." You can see all of Lynn Chandnois's football cards in the Vintage Football Card Gallery.