April 2nd, 2011 | Published in New in the Gallery, Oddball | 1 Comment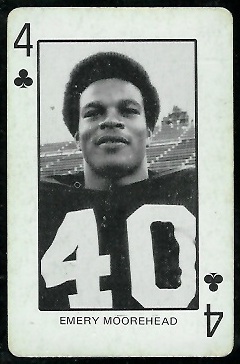 This week I added 1974 University of Colorado Playing Cards to the Vintage Football Card Gallery. The cards came in a bridge set: one deck with black backs, and one with gold backs. Each 54-card deck contains cards of 40 players, 11 coaches, the athletic director, and 2 team logos.
By my count, 15 of the 40 players in the deck saw playing time in the NFL–a bit surprising, since the Buffs finished just 5-6 in 1974. Four players had NFL careers of ten or more seasons: Pete Brock and Emery Moorehead, with 12; Whitney Paul, with 11; and Rod Perry, with 10. At the other extreme, one player, Steve Haggerty, had an NFL career of exactly one game. For this distinction I added Haggerty to my blog article, "A Cup of Coffee–and a Card."
Another player in the deck, Jim Kelleher, was the last player chosen in the 1977 NFL draft. For this he was dubbed "Mr. Irrelevant." You can also read about Kelleher and other Misters Irrelevant in my blog.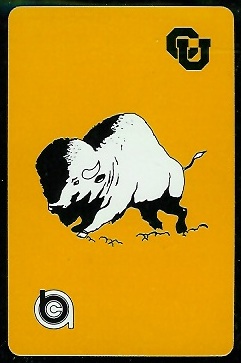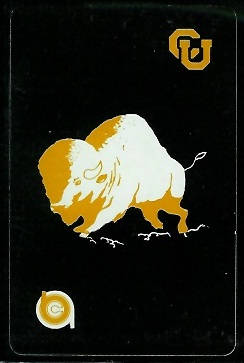 Several of the players who made the NFL appeared on Topps cards in the late 70s and early 80s. I don't have cards that recent in the Gallery yet, but you can usually find them on eBay. The players whose cards I found were Emery Moorehead, Rod Perry, Dave Logan, Don Hasselbeck, and Bill Waddy.
For more decks of playing cards that picture football players, see the Oddball page of the Vintage Football Card Gallery.