March 8th, 2011 | Published in Player Deaths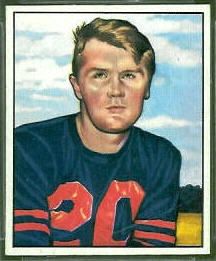 Jim Keane, a receiver for the Chicago Bears and Green Bay Packers from 1946 to 1952, passed away this morning. His obituary on the Bears web site includes a summary of his career and a recent photo.
Keane was a member of the Bears NFL Championship team in his rookie season. The next season, 1947, he led the league in receptions, and he finished second in receiving yards and receiving touchdowns. Despite his stellar performance in 1947, Keane did not have a card in the 1948 Leaf and 1948 Bowman football card sets. To my knowledge, he appeared on only one card, the 1950 Bowman card pictured here.