February 24th, 2011 | Published in New in the Gallery | 2 Comments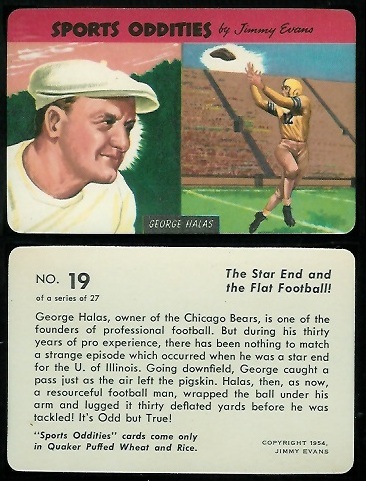 Today I added 1954 Quaker Sports Oddities cards to the Vintage Football Card Gallery. Seven cards in the 27-card multi-sport set picture football players, so those were the seven cards I added. I also have the rest of the set, and I am pondering whether to display the other cards online, as well. Until I do, you can see the composition of the full Sports Oddities set on SGC's web site.
According to their backs, the cards came only in boxes of Quaker Puffed Wheat and Puffed Rice. You can see a picture of a Puffed Wheat box with a Sports Oddities ad on the back on the MrBreakfast.com web site.
Some of the "oddities" on the cards really aren't that odd, but the cards themselves are colorful and attractive. Because they have rounded corners, rather than square, a lot of them appear to have stayed in nice shape. The cards are oriented horizontally, most with a portrait on the left and an action shot on the right, similar to 1957 Topps football cards. I wonder if Topps, in 1957, was inspired by these Quaker cards?