February 20th, 2011 | Published in Player Deaths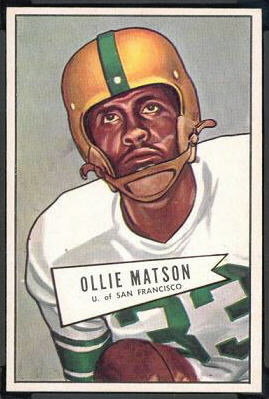 When I read yesterday that Ollie Matson had passed away, I thought I'd do a quick web search for him. It kept me busy for a couple of hours. A San Francisco Chronicle article provides the best summary I found of Matson's career. The article includes a recent photo and a few photos from his playing days.
Before reading about Matson yesterday, I didn't know about his 1951 San Francisco Dons team. The Dons went undefeated in 1951, but, because they refused to play without their two black team members, Matson and Burl Toler, they were not invited to a bowl game. A book about the team, by Dr. Kristine Setting Clark, is available. Two other Pro Football Hall of Famers, Gino Marchetti and Bob St. Clair, were also members of the 1951 Dons team.
Matson's two rookie cards–1952 Bowman Large and 1952 Bowman Small–picture him in his Dons uniform. His 1952 Bowman Large card, pictured on the right, is one of my all-time favorite football cards. The back of the card shows that Matson was drafted by the Chicago Cardinals in 1952. He shared NFL Rookie of the Year honors that season with Hugh McElhenny.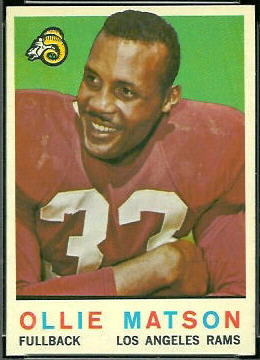 Before joining the Cardinals, Matson ran track in the 1952 Helsinki Summer Olympics. He won two medals: a bronze in the 400-meter dash and a silver in the 1600-meter relay. (For other pro football players who won Olympic medals, see my blog article on the subject.)
According to Matson's page on the Pro Football Hall of Fame web site, he spent the 1953 season in the military, and he returned to the Cardinals in 1954. In total, he played 14 seasons for the Cardinals, Los Angeles Rams, Detroit Lions, and Philadelphia Eagles. According to his page at pro-football-reference.com, he was a fullback, halfback, flanker, defensive back, and kick returner at various times during his NFL career. He is a member of the Cardinals Ring of Honor and the Philadelphia Eagles Honor Roll.
During his long NFL career, Matson appeared on at least 16 football cards. My favorite, after his 1952 Bowman cards, is his 1959 Topps card, pictured on the left.
You can see all of Ollie Matson's football cards in the Vintage Football Card Gallery.