February 15th, 2011 | Published in Player Deaths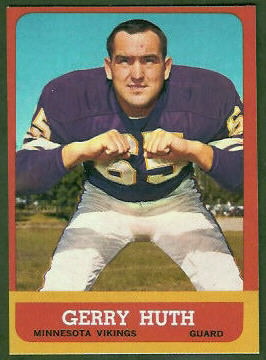 Gerry Huth, a guard for six seasons with the New York Giants, Philadelphia Eagles, and Minnesota Vikings, passed away on February 11. Huth was a member of the 1956 Giants and 1960 Eagles NFL Championship teams. His obituary at newcomerlouisville.com includes a summary of his football career.
Huth's only football card, the 1963 Topps card pictured here, was issued in his last NFL season. This is the "blue sky" variation of the card; there is also a "purple sky" variation. You can see the variations side-by-side in the PSA Set Registry.