February 14th, 2011 | Published in Silly Stuff | 5 Comments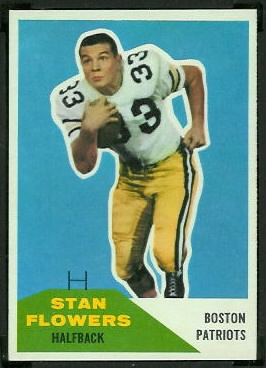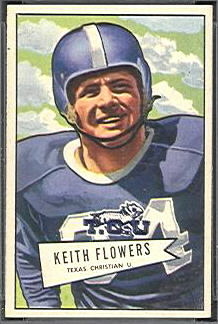 For Valentine's Day, I thought I'd give you a bunch of Flowers. As always, you can click on any image to get more details.
First is Keith Flowers, on a 1952 Bowman Small card. Flowers had a short NFL career, playing nine games in 1952 for the Dallas Texans and Detroit Lions. Bowman issued two sets of football cards in 1952, identical except for their size, so Flowers appeared on a 1952 Bowman Large card, as well. Not bad for a few games.
Next is Stan Flowers, who appeared on a 1960 Fleer card with the Patriots but never saw playing time. (I'm inferring this because he does not have a page at pro-football-reference.com.) Fleer apparently chose the players for their 1960 set well before the season started, because I'd guess that a third of the players in the set never actually played in the AFL.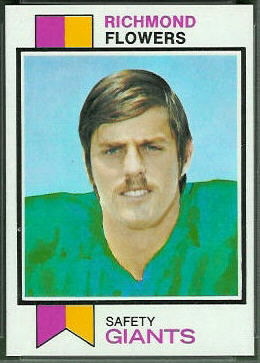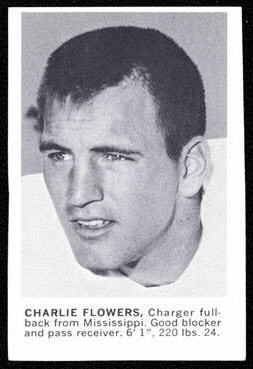 Charlie Flowers is also in the 1960 Fleer set, and he did see playing time: two seasons at fullback with the Chargers, and one with the New York Titans. He appeared on several cards with the Chargers, one being the tough 1961 Golden Tulip Chargers card shown here.
Unlike the guys above, Richmond Flowers actually played awhile before he appeared on a card. He was a defensive back and kick returner for the Dallas Cowboys and New York Giants from 1969 to 1973, and he made his debut on a 1973 Topps card. In 1973, Topps increased the size of their football card set from 351 to 528, so they were able to include many players who had not appeared on cards earlier.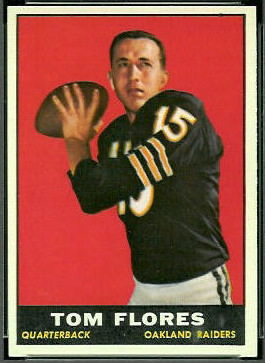 Finally, we have Tom Flores, a longtime quarterback and coach for the Oakland Raiders. (He also played a couple of years for the Buffalo Bills and Kansas City Chiefs.) This is one of his rookie cards, a 1961 Topps; the other is a 1961 Fleer. Flores appeared on a bunch of other colorful 1960s cards, as well.
That's it! If you haven't gotten your sweetie something yet, maybe you can dig through your collection and find a couple of these guys. But first I'd see if Hallmark is still open.