February 8th, 2011 | Published in Record Holders | 1 Comment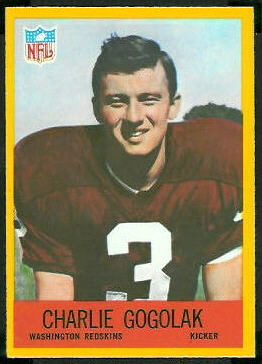 Here's another record from the nfl.com history page: on November 27, 1966, in a game against the New York Giants, the Redskins' Charlie Gogolak attempted ten extra points. That means, of course, that the Redskins scored ten touchdowns that day, and they beat the Giants 72-41. The Redskins' 72 points in one game is an NFL record, and so is the 113 total points that the two teams scored. According to an account of the game at sportsthenandnow.com, the Redskins weren't very sportsmanlike that day: with only a few seconds left in the game, instead of running out the clock, coach Otto Graham sent Gogolak out to kick a field goal. With those final three points, the Redskins surpassed the previous record for points in a game, 70, which the Los Angeles Rams had set in 1950.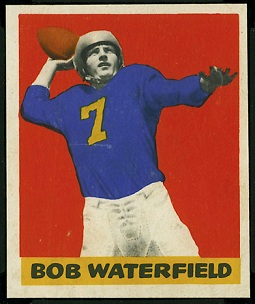 If you're quick at math, you're thinking, hmm, Gogolak must have missed one of his attempts against the Giants. He did; the Giants blocked it. Thus Gogolak shares the record for most successful extra points in a game with Pat Harder and Bob Waterfield. Harder, of the Chicago Cardinals, went 9-for-9 twice: against the New York Giants in 1948, and against the New York Bulldogs in 1949. Waterfield, of the Los Angeles Rams, went 9-for-9 in a game against the Baltimore Colts in 1950–the game in which the Rams set the scoring record I mentioned above. According to the box score, Elroy Hirsch kicked the final extra point in that game, or Waterfield alone would hold the record for most successful extra points in a game. Waterfield threw a 63-yard touchdown pass for the final score, and maybe it was too far to walk.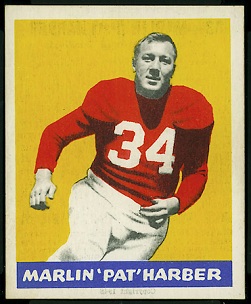 The cards pictured here are the rookie cards of the record-holding kickers: Gogolak's 1967 Philadelphia card, Harder's 1948 Leaf card (with his name misspelled), and Waterfield's 1948 Leaf card. Waterfield and Harder also had rookie cards in the 1948 Bowman football card set.