February 3rd, 2011 | Published in Player Deaths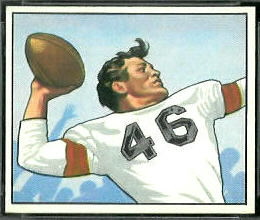 Ken Carpenter, who played halfback from 1950 to 1960 for the Cleveland Browns, Saskatchewan Roughriders, and Denver Broncos, passed away on January 28. Carpenter was with the Browns for four seasons, from 1950 through 1953, and the Browns played in the NFL championship game in each of those four seasons. They won one of those championship games, in 1950, against the Los Angeles Rams.
According to his obituary at oregonlive.com, Carpenter was a player-coach while he was with Saskatchewan and Denver, and he continued coaching after his playing days.
The card pictured here is Carpenter's rookie card, a 1950 Bowman. He also appeared on a 1951 Bowman card and a 1953 Bowman card while with the Browns. He appeared on a few CFL football cards while at Saskatchewan, but I don't have those yet in the Vintage Football Card Gallery. You can usually find a few on eBay.