January 28th, 2011 | Published in Player Deaths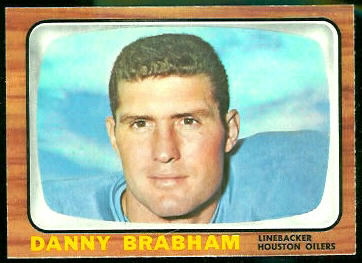 Danny Brabham, a linebacker from 1963 to 1968 for the AFL's Houston Oilers and Cincinnati Bengals, passed away on January 23. He played college football at Arkansas. Brabham's obituary at arkansasonline.com includes a summary of his college and pro football career.
Brabham appeared on two football cards, both with the Oilers. His 1966 Topps card is pictured here; he also appeared on a 1967 Topps card.