January 21st, 2011 | Published in Players Who Became Actors, Record Holders
I was recently perusing the individual records page at nfl.com, looking for records that were set by players who are now on vintage cards. I found one record that I doubt will ever be broken: Fred Dryer's record for "Most Safeties, Game." Dryer set the record on October 21, 1973, when he scored two safeties against the Green Bay Packers. The video below shows them, at 2:48. If you watch closely, you can see that he sacked two different Packer quarterbacks: number 12, Scott Hunter, and number 16, Jim Del Gaizo. I looked up the box score for the game and found that not only did Dryer get two safeties in one game, he got them both in the fourth quarter. And, according to pro-football-reference.com, they were the only two safeties he scored in his 13-year career!
Of course, while searching youtube, I also came across lots of videos of Dryer starring in the television show "Hunter." Hunter ran for seven seasons in the late 80s. For a smile, check out the season 1 intro below.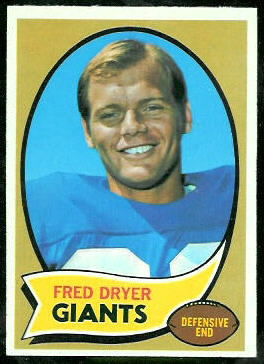 Pictured here is Dryer's 1970 Topps rookie card, from when he was still with the New York Giants. You can see more of Dryer's early football cards in the Vintage Football Card Gallery.