January 14th, 2011 | Published in Player Deaths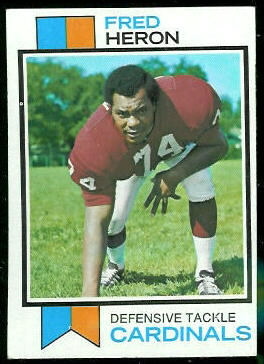 Fred Heron, who played defensive tackle for the St. Louis Cardinals from 1966 to 1972, passed away on December 28. The Stockton Record web site has an obituary for Heron (with a recent photo) and an announcement for his upcoming memorial.
Heron's 1973 Topps card is pictured here. As far as I know, it is his only card, and, ironically, it was issued the season after he retired. (1973 was the first year that Topps issued a 528-card set, and it allowed them to include a lot of players who had not appeared on cards previously.) Heron also appeared on a 1972 Sunoco stamp.
See Fred Heron's NFL statistics on pro-football-reference.com.