January 8th, 2011 | Published in Player Deaths | 2 Comments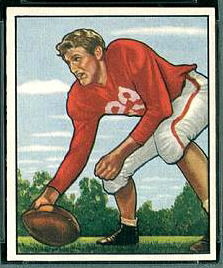 Bill "Tiger" Johnson, a center for the San Francisco 49ers from 1948 to 1956, passed away on January 7. Johnson was a Pro Bowler for the 49ers in 1952 and 1953. After his playing days, Johnson went on to a long coaching career, including three seasons as the head coach of the Cincinnati Bengals. An article on the San Francisco Chronicle web site provides a nice summary of Johnson's career.
Pictured here is Johnson's rookie card, a 1950 Bowman. He also had a 1955 Bowman football card, and he appeared on numerous 49ers team issue photos, both as a player and a coach. You can see several of Johnson's cards and team issue photos in the Vintage Football Card Gallery.