December 20th, 2010 | Published in New in the Gallery, Oddball | 1 Comment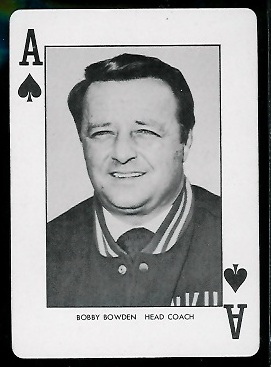 Over the weekend I added 1974 West Virginia Playing Cards to the Vintage Football Card Gallery. The 52-card deck includes cards of the West Virginia players, coaches, athletic director, cheerleaders, and mascot. Head coach Bobby Bowden is the ace of spades; he later won two national championships with Florida State. Tommy Bowden, Bobby's son, appears in the deck as a player. Tommy went on to a long coaching career, as well, including 12 years as a head coach at Tulane and Clemson.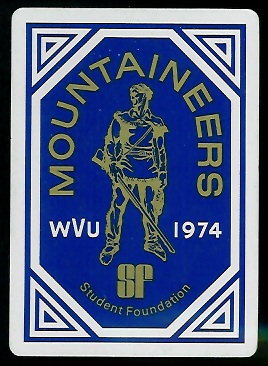 Five of the players in the deck saw playing time in the NFL: Ron Lee, Mark Burke, Danny Buggs, Artie Owens, and Jeff Merrow. Of the five, Merrow had the longest NFL career, spending nine seasons with the Atlanta Falcons. Burke had the shortest, playing in one game for the Philadelphia Eagles. I added Burke to my earlier article, A Cup of Coffee–and a Card.
Alas, though they were immortalized on cards, the 1974 Mountaineers had a disappointing 4-7 season.