November 24th, 2010 | Published in error cards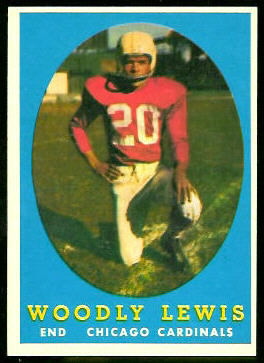 Woodley Lewis appeared on three Topps football cards, and Topps spelled his name differently on all three. In 1958, he was Woodly. In 1959, he was Woody. In 1960, Topps finally got it right and spelled his name Woodley. The card companies misspelled plenty of players' names (see a previous blog article, E is for Error Cards), but I can't think of another player who had his name spelled three different ways.
As I usually do when I write about a player, I did a little web search for Lewis, and I turned up a couple of nice non-card images. One, on the University of Oregon web site, pictures him in the middle of a broad jump. Another, on flickr, shows him in front of the Sportsman Bowl, a bowling alley that he owned after retiring from football. I also found an old matchbook for Woodley Lewis's Sportsman Bowl on eBay.