November 14th, 2010 | Published in Player Deaths | 1 Comment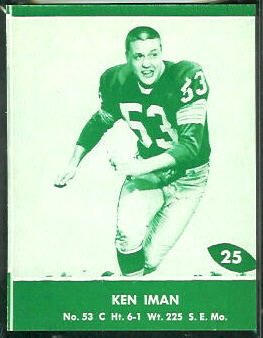 Ken Iman, who played center for the Green Bay Packers and Los Angeles Rams from 1960 to 1974, passed away on November 13. Iman played on two of the Packers' championship teams, in 1961 and 1962. Later, with the Rams, he started 140 straight games, and he was the team's MVP in 1972, according to his obituary on the ESPN web site. After retiring as a player, Iman was the Philadelphia Eagles' offensive line coach for eleven years, from 1976 to 1986.
I featured Iman's football cards in an earlier blog article. His rookie card, a 1971 Topps, wasn't issued until his twelfth season in the league. He appeared on a card much earlier in his career, a 1961 Lake to Lake Packers card, but since the Lake to Lakes are a regional set, cards from that set are not considered rookie cards. Iman's 1961 Lake to Lake card is pictured here.