September 10th, 2010 | Published in New in the Gallery, Team Issue Photos
Today I added 1958 49ers Team Issue Photos to the Vintage Football Card Gallery. There are forty-four 4-by-6 black-and-white photos in the set, including players, coaches, the head of personnel, and even the 49ers announcers. Pictured here are my two favorites, Bill Stits and Jerry Mertens, both making (or faking) spread-eagle receptions.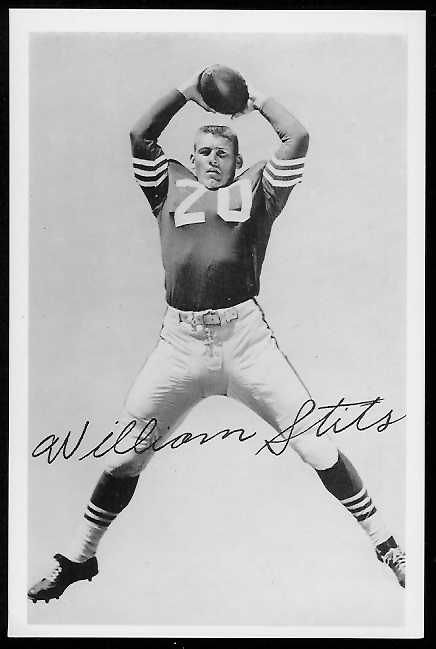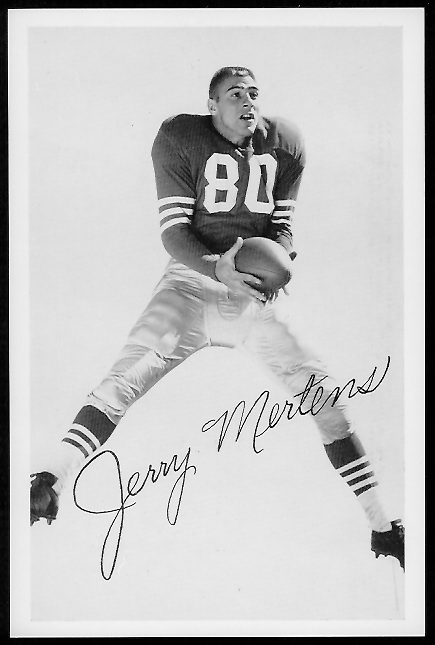 Some of the players in the 1958 set also appear in the 1955 49ers Team Issue set. The team reused the images for those players, but they updated the text on the backs of the photos. Pictured here is the text from the back of Matt Hazeltine's 1955 photo, along with that from his 1958 photo. (I added the years in red.) In three years he gained ten pounds, a wife, and a daughter!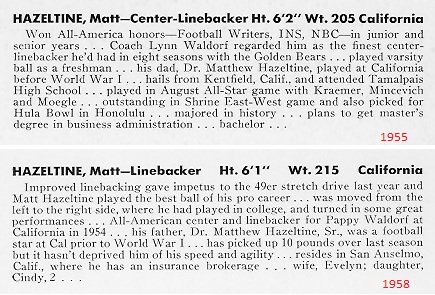 Several players in the 1958 photo set never appeared on cards of their own–at least not to my knowledge. They are Gene Babb, John Gonzaga, Bill Herchman, Bill Jessup, Jim Pace, Lou Palatella, and John Wittenborn. As always, it's good to add new faces to the Gallery. The set also includes a photo of John Brodie, issued three years before his 1961 Fleer and 1961 Topps rookie cards.