August 29th, 2010 | Published in Football Card Oddities, New in the Gallery, Team Issue Photos | 2 Comments
Today I added 1960 Eagles Team Issue Photos to the Vintage Football Card Gallery. There are eleven 5-by-7 prints in the set, and the prints have blank backs.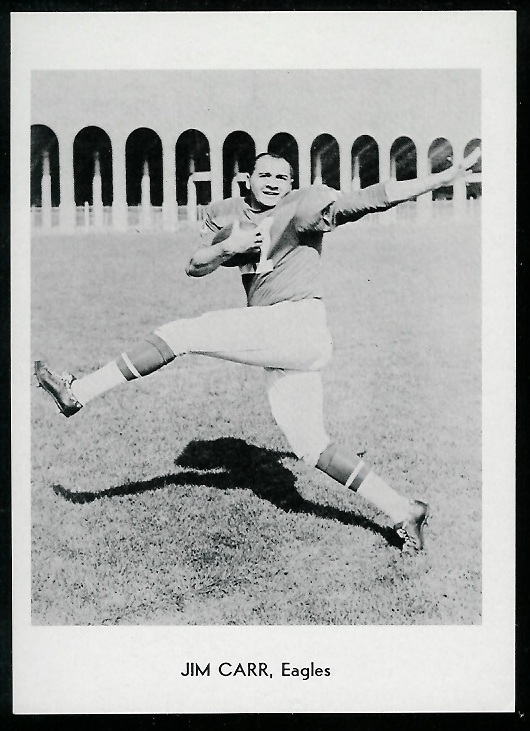 The composition of the set is easily the oddest I've seen. First, Nick Skorich, an assistant coach in 1960, appears in the set, but Buck Shaw, the head coach, doesn't. (Skorich took over as head coach in 1961.) Second, there are no quarterbacks, running backs, or receivers in the set! Hall of Famers Norm Van Brocklin and Tommy McDonald were both established starters in 1960, but neither is included. Finally, the Eagles had six Pro Bowlers in 1959 (Van Brocklin, McDonald, Jess Richardson, Marion Campbell, Bill Barnes, and Tom Brookshier), they were all still with the team in 1960, and not one of them appears in the set! It's like the photographer was in a hurry, and he just grabbed the first eleven guys who showed up for practice.
(Speaking of Van Brocklin, this wasn't the only set from which he was conspicuously absent. In 1958, after nine seasons and six Pro Bowls with the Rams, Van Brocklin was traded to the Eagles. He played three seasons for the Eagles, making the Pro Bowl in each of them, but he did not appear in any of the 1958-1960 Topps football sets. The only card I know of that shows him as an Eagle is his 1963 Stancraft playing card.)
As I've said in previous articles, one reason I like team sets is that they usually include players who never appeared on cards in mainstream issues. In this set, those players are Howard Keys and John Wittenborn, both offensive linemen. Keys was a rookie in 1960, and he played for the Eagles for four seasons. Wittenborn spent ten years in the NFL and AFL, with the 49ers, Eagles, and Oilers.
My favorite photo in the set is the one shown here, Jimmy Carr. Carr was a defensive back, but he could have been the drum major!
Oh, and incidentally, the Eagles won the NFL championship in 1960.