August 26th, 2010 | Published in Interesting eBay Auctions, New in the Gallery, Oddball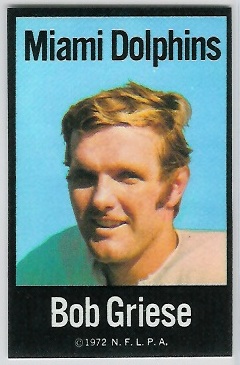 Yesterday I added 1972 NFLPA Iron Ons to the Vintage Football Card Gallery. These are patches that you could (and still can!) iron onto your clothes to impress your friends. Beckett calls them "Fabric Cards," but they aren't cards at all: they're cloth, not cardboard, and they're floppy.
There are 35 patches in the set, with 22 of the 26 NFL teams represented. Oddly, there are no Bengals, Oilers, Eagles, or Rams in the set, but there are four Chargers, and the Chargers were a losing team at the time. Perhaps Deacon Jones was supposed to represent the Rams in the set, but he was traded to the Chargers before the 1972 season.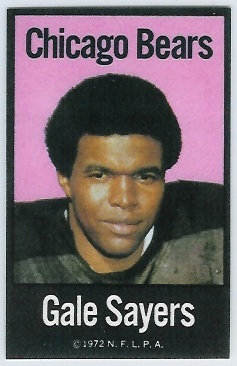 Most of the NFLPA patches have a blue background, but there are six with a pink background, one with white, one with yellow, and one with green. I don't think the colors are significant, but the distribution is odd, so perhaps I am missing something. There are no logos or trademarks on the patches, but John Brockington and Jim Plunkett appear in their College All-Star jerseys, complete with stars on the shoulders. Brockington and Plunkett also appear in their All-Star jerseys on their 1972 Topps cards, but Topps airbrushed the stars off of them.
According to Beckett, the NFLPA patches were sold from vending machines. When researching them, I found a couple of related items on eBay: a promo package and a vending machine display, pictured below. Interestingly, the list of players on the vending machine display does not match the list of players in the set: some players in the set are not on the display, and some players on the display are not in the set. Pity the poor young Bob Lilly fan, who kept chucking quarters into the machine, trying to get a patch of his hero!