July 27th, 2010 | Published in Football Card Trivia, Interactive Team Cards, New in the Gallery, Sites I Like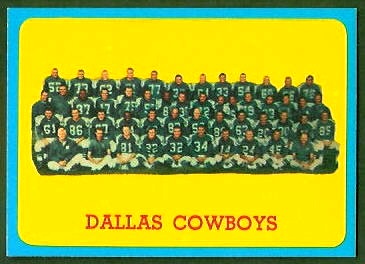 Yesterday I added an "interactive" 1963 Topps Dallas Cowboys team card to the Vintage Football Card Gallery. By placing the cursor over a player, you can see who the player is, and by clicking on him, you can see all of his cards. (It doesn't work on the card pictured here–you have to go to the gallery page.) As the gallery page says, this 1963 card actually pictures the 1960 Cowboys team, and only eight of the players were still with the team when the card was issued.
The Cowboys were an expansion team in 1960, and they obtained most of their players from the other teams via an expansion draft. Each of the other teams made nine players available, and the Cowboys chose three of them. Like the other teams, the Cowboys also obtained players via trades, free agency, and other teams' waiver lists. Unfortunately, the league approved the franchise too late for the Cowboys to participate in the college draft, and the team also had to compete with the upstart AFL for free agents. The result: a 0-11-1 season.
To see how the Cowboys assembled their original team, check out The Original 1960 Dallas Cowboys Roster at thecowboysguide.com. The page includes pictures of the team-issued photos for most of the players, and it also shows many of the players' first cards. Very interesting!