July 21st, 2010 | Published in Football Card Trivia, Interactive Team Cards, New in the Gallery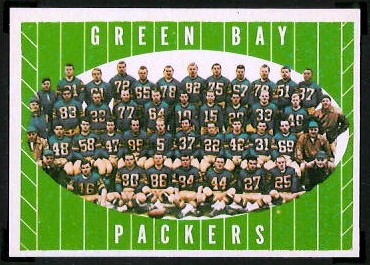 Yesterday I added an "interactive" 1961 Topps Packers Team Card to the Vintage Football Card Gallery. By placing the cursor over a player, you can see who the player is, and by clicking on him, you can see all of his cards. (It doesn't work on the card pictured here–you have to go to the gallery page.)
In the process of looking up the players, I learned a few things:
Ray Nitschke wore number 33 in his rookie season.
Hall of Famer Len Ford spent the last year of his career with the Packers.
Billy Kinard was a Packer before joining the AFL's Buffalo Bills in 1960.
Steve Meilinger appeared on a 1958 Topps card with the Redskins, but he actually played for the Packers that year.
Joe Johnson, who appears on this team card, also appeared on a (very bright) 1951 Topps Magic card. I don't believe he appeared by himself on any other cards.
For more gallery features, see A Tour of the Vintage Football Card Gallery.