June 12th, 2010 | Published in Player Deaths | 1 Comment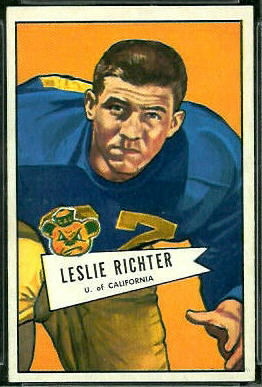 Les Richter, who played linebacker, guard, and kicker in nine seasons with the Los Angeles Rams, passed away this morning. Richter made the Pro Bowl in eight of his nine seasons. According to an article on the Crazy Canton Cuts blog, Richter was traded from the Dallas Texans, who drafted him, to the Rams for eleven players. After he retired from football, Richter became involved with auto racing, and at one point he served as NASCAR's director of competition.
Richter appeared on at least one card in each year of his football career–remarkable for a defensive player–and on two cards before his career even started. His rookie cards are 1952 Bowman Large and 1952 Bowman Small cards, issued after he graduated from the University of California. (The Large is pictured here.) He served in the Army for two years after college, so he did not play for the Rams until 1954.
You can see all of Les Richter's football cards in the Vintage Football Card Gallery.