May 29th, 2010 | Published in Football Card Trivia, New in the Gallery, Oddball, Sites I Like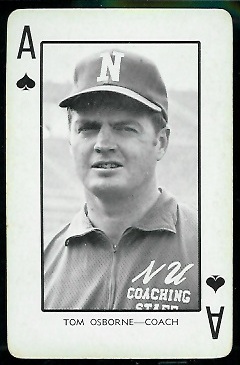 Yesterday I added 1973 Nebraska Playing Cards to the Vintage Football Card Gallery. This standard deck of cards includes fifty-one cards of players, two cards (the jokers) showing a packed Memorial Stadium, and one card picturing coach Tom Osborne. Osborne coached the Cornhuskers for twenty-five years, and 1973 happened to be his first season.
A page on Wikipedia summarizes the 1973 Cornhusker season in detail. According to that page, twenty-four members of the 1973 Nebraska team went on to play professionally: fourteen in the NFL, three in the CFL, and seven in the World Football League. Nineteen of those players are included in my deck of playing cards. Coach Osborne had also spent some time in the NFL: he was a receiver for the Washington Redskins for two seasons in the early 1960s.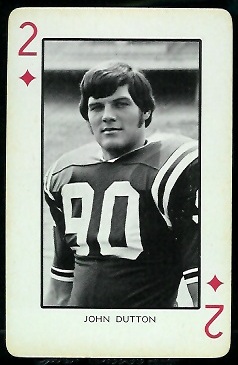 Of the 1973 Huskers who made the NFL, John Dutton, a defensive end, was the most successful. Dutton played fourteen seasons for the Baltimore Colts and Dallas Cowboys, and he went to the Pro Bowl three times. He appeared on a lot of football cards as a professional, too. I don't have any of them, since they are newer, but a lot of them are listed on eBay.
As far as I know, Bob Martin is the only other player in the 1973 playing card set who also appeared on a card as a professional. Martin played linebacker for four years for the Jets and 49ers, and he appeared on a 1980 Topps football card. You can find that card on eBay, too.
Two more players, Bob Nelson and Dave Humm, had ten-year NFL careers, and Nelson was a member of two Raiders teams that won the Super Bowl. Both played in reserve roles, though, and they did not make it onto cards as pros. They and several other 1973 Huskers later appeared in the 1989 Leesley set, however. I am not familiar with the Leesley cards, but they appear to be a Nebraska all-time star set. You guessed it: you can find them on eBay.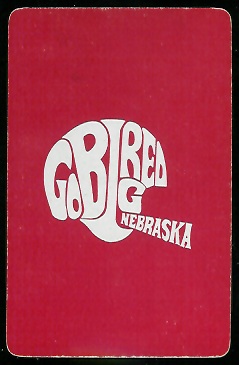 In my research for this set, I also turned up a site called HuskerJ's Collectibles. HuskerJ has pictures of a few more decks of Nebraska playing cards–as well as many more Cornhusker toys. The other decks of playing cards don't appear to feature individual players, but they're worth a peek.