May 11th, 2010 | Published in error cards, New in the Gallery, Uniforms | 7 Comments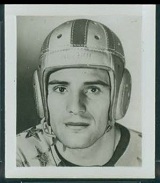 Yesterday I added 1948 Kellogg's Pep football cards to the Vintage Football Card Gallery. The five cards are part of a 42-card sport and entertainment set that was distributed in boxes of Kellogg's Pep cereal. You can see the composition of the set on PSA's web site, but you have to look in two places, since PSA split the set into athletes and celebrities. Apparently not many trading card sets contain both.
The cards are small, about half the height of a standard trading card. There is one variation among the football cards: some instances of Charley Trippi's card have the image reversed, and some have it corrected. The Trippi card shown here has the reversed image, though I'm not sure how to tell. Perhaps by how his chinstrap is fastened?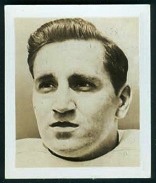 Trippi's card shows him in his College All-Star uniform–note the stars on the shoulders. He played in the game five times: four as a college all-star, and one as a Chicago Cardinal, after the Cardinals won the 1947 NFL championship. The College All-Star Game site has a photo of Trippi in action in 1945, the year he was the All-Stars' MVP.
Another notable card in the 1948 Pep set is a Lou Groza pre-rookie card, pictured here. Groza's rookie card is a 1950 Bowman. Check out my pre-rookie card page for more pre-rookies.