May 5th, 2010 | Published in Football Card Trivia | 2 Comments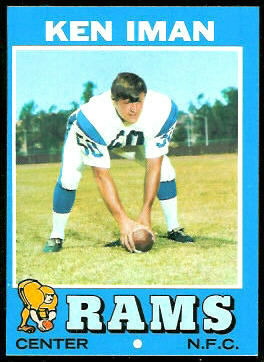 As I wrote in R is for Rookie Cards, the term "rookie card" is a misnomer. Pictured here is an extreme example: Ken Iman's rookie card, a 1971 Topps, which was printed in his twelfth year as a pro. Offhand, I can't think of any another rookie card that was issued that far into an active player's career. I wouldn't be surprised if there were some, though. If you can think of an example, leave a comment.
I would not have realized that Iman had been in the league a long time by 1971, except that he also appeared on a card ten years earlier, in the 1961 Lake to Lake Packers set. (See K is for KDKA–and Other Regional Sets.) I actually had to look him up to verify that it was the same Ken Iman on both cards. Collectors generally agree that a player's rookie card has to come from a major set, so his Lake to Lake card doesn't count as his rookie card.
Iman apparently had established himself as a solid player by the 70s, because he also appeared on 1973, 1974, and 1975 Topps cards. (It helped that Topps started producing monstrous 528-card sets in 1973.) Ironically, though he appeared on a card in 1975, he did not play that year.