April 24th, 2010 | Published in New in the Gallery | 1 Comment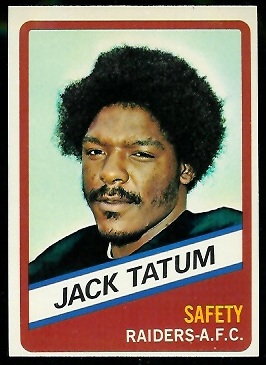 I added 1976 Wonder Bread cards to the Vintage Football Gallery yesterday. The cards are as plain as the bread, and they're abundant: you can usually find complete sets on eBay for $10-15.
There are twenty-four cards in the set, with the players composing a starting lineup of eleven defensive players, eleven offensive players, a kicker, and a punter–a cool concept. The defensive players and the punter have red borders, and the offensive players and the kicker have blue borders. The punter, Ray Guy, switched sides in 1976: in the 1975 Wonder Bread set, Guy was with the offense. Moving him to the defense evened out the set at twelve red cards and twelve blue ones.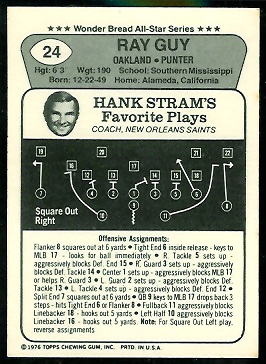 The player selection in the set is curious: if you had been asked to select an All-Star starting lineup in 1976, would you have chosen Craig Morton as your quarterback? Probably not, with Stabler, Tarkenton, Bradshaw, and Staubach to pick from. Maybe Topps (who printed the set for Wonder Bread) wanted to include a Giant in the set, since New York is a large market. The teams of the star quarterbacks were already represented by other players in the set.
The backs of the cards are awful, with each one showing a diagram of one of Hank Stram's favorite plays. As a kid, I would have scanned one of these and disregarded the rest–which is exactly what I did as an adult. What's wrong with stats, cartoons, and quizzes?