February 19th, 2010 | Published in CFL Cards, error cards | 1 Comment
It is well-known among vintage football card collectors that the 1959 Topps rookie card of the Packers' Jim Taylor pictures a different Jim Taylor. And so does his 1960 Topps card. (For pictures of them, see my Mistaken Identities page.) I didn't know until recently, though, that the other Jim Taylor–Jim G. Taylor–appeared on a card of his own. Here he is, with the Hamilton Tiger-Cats, on a 1961 Topps CFL card. Thanks to Pastor Scott for calling my attention to it. (Click on the card to see a bigger image.)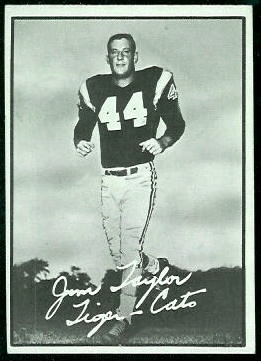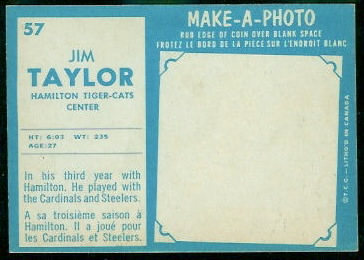 Jim G. Taylor, according to his page on pro-football-reference.com, played for Pittsburgh in 1956, and for the Chicago Cardinals in 1957 and 1958. According to the Hamilton Tiger-Cats' all-time roster, by the time Jim G. appeared on Jim C.'s card in 1959, he had left the Cardinals and was playing for Hamilton. By 1961, when Topps issued his CFL card, he had left the Tiger-Cats, too. Topps couldn't seem to catch up with the guy!
As you can see, the fronts of the 1961 Topps CFL cards look nothing like the 1961 Topps NFL/AFL cards, but the backs are nearly the same. As I have seen on other CFL cards, the short text on the back is in both English and French, which requires it to be even shorter than usual. The CFL cards (judging by this one) do not have College or Years Pro fields on them, as the 1961 Topps NFL/AFL cards do.
At first I thought that the facsimile signature on the front of the 1961 CFL cards was a nice touch, but it turns out that the signatures on all of the cards are in the same handwriting. You can see many more examples on eBay.
It would be fun to collect CFL cards, but I'm learning that there are a ton of them, and I have my hands full with the NFL and AFL. Maybe I'll just start picking up cards of CFL players who also played in the U.S. It's interesting to see how the players moved between the leagues.