January 25th, 2010 | Published in New in the Gallery | 2 Comments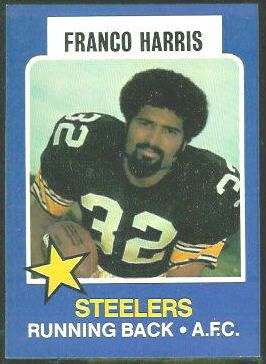 Today I added 1975 Wonder Bread cards to the Vintage Football Card Gallery. The cards are homely, but they're cheap: you can find most of them on eBay for a dollar or two.
There are only twenty-four cards in the set, so not all teams are represented. There are no Bills, Falcons, Cardinals, Colts, Oilers, or Saints in the set. The players on the cards compose a starting lineup of eleven defensive players, eleven offensive players, a kicker, and a punter. The eleven defensive players have red borders; the rest have blue borders.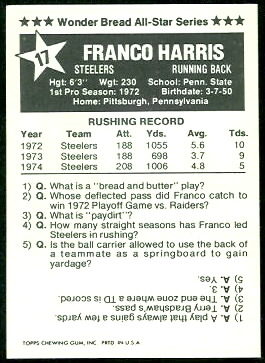 The backs of the cards contain the players' stats and short quizzes. One question I saw was "What would happen if after a kickoff the ball deflates in flight?" Do you suppose that's ever happened? Well if it did, the referee would get a new ball and it would be re-kicked, according to John Mendenhall's card.
The card backs also say that Topps printed the cards. Like the regular 1975 Topps cards, the Wonder Bread cards have no team logos on them, and the two helmets that appear in the images are airbrushed. The cards don't even have the teams' cities on them. It's not much of a set, I'm afraid, though I imagine that player and team collectors would be interested in individual cards. The little quizzes are the best part!