December 21st, 2009 | Published in Funny Poses, New in the Gallery, Team Issue Photos | 3 Comments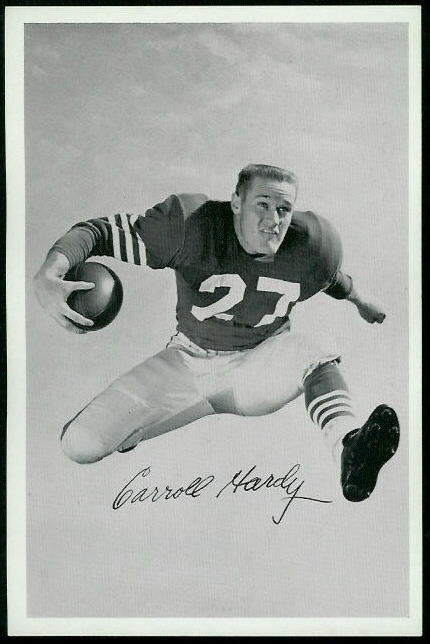 Yesterday I added 1955 49ers Team Issue photos to the Vintage Football Card Gallery. The photos are bigger than cards, at just under 5×7, and I had to order extra-large toploaders for storing them. They came in the original envelope, pictured below. The photos, amazingly, are in much better condition than the envelope.
The photos are sharp black-and-whites, and each includes a facsimile of the player's signature. On the back of each photo is a glowing biography of the player on the front. (Hardy Brown's bio calls him "the most feared linebacker in the game because of his fantastic 'shoulder tackle' which uncoils like a pile driver and causes many fumbles"!) Most of the images of the well-known players are familiar, since they also appear in color on 1950s Bowman and Topps cards. Being a team issue, though, the set also includes numerous players who never appeared on cards. In the 50s and 60s, the major card companies printed cards of only 10-12 players from each team, and most linemen and defensive players were left out. I love team sets for this reason: I get to see players I've never seen before.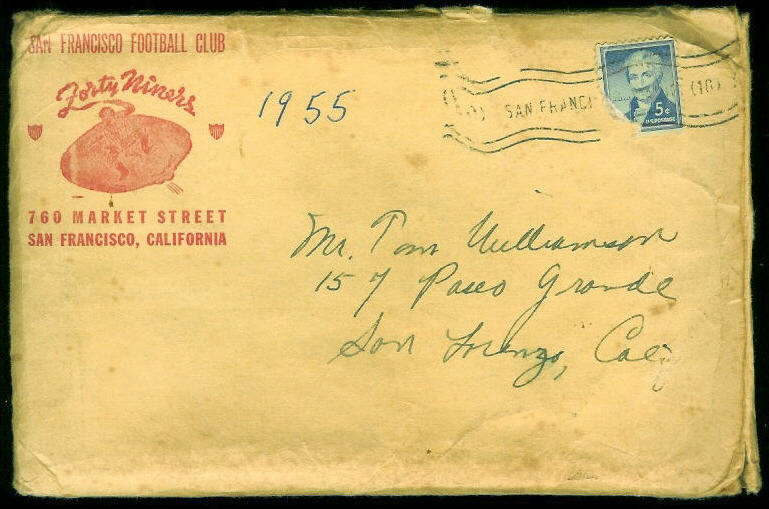 There are 38 photos in the set, and it includes photos of the 49ers' coaches and their TV and radio announcers. I imagine that in the 50's, the announcers for each team were as familiar to fans as the players, so it was natural to include them in a team set.
The set includes six Pro Football Hall of Fame players, including the four members of the 49ers' "Million Dollar Backfield": Y.A. Tittle, Hugh McElhenny, Joe Perry, and John Henry Johnson.