November 24th, 2009 | Published in Baseball Cards, Football Card Trivia, Oddball | 1 Comment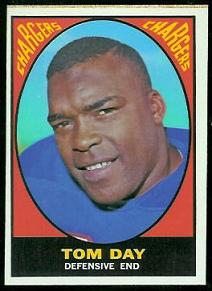 I was putting some 1967 Topps cards up for sale the other day, and I noticed that one of them, the Tom Day card shown here, had a bit of brown along the top border. I remembered that 1967 Topps football cards had been included in a board game with 1968 Topps baseball cards, so I did a little web searching to refresh my memory. Here's what I found:
According to an auction on the Heritage Auctions web site, the board game was called "Win-A-Card," from Milton Bradley. The auction says that there were 132 cards in the game: 76 1968 Topps baseball cards, 33 1967 Topps football cards, 22 1965 Topps Hot Rod cards, and an instruction card. The 132 cards were printed on a single sheet created specially for the game. The bit of brown on the top of my Tom Day football card is part of a 1968 Topps baseball card. The baseball cards included a Nolan Ryan rookie card, Brooks Robinson, Tom Seaver, Ed Mathews, Rod Carew, Gaylord Perry, Bob Gibson, and Hank Aaron. You can usually find a few of them on eBay.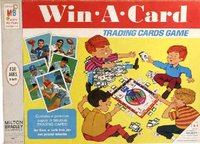 BoardGameGeek.com has a picture of the game box and a photo of some of the baseball and Hot Rod cards. BoardGameGeek says that the game included a total of 50-70 cards, but that has to be incorrect. If each game contained a partial sheet of cards, and if there were only one instruction card per sheet, not all games would have gotten an instruction card. I believe Heritage's statement that the game included all 132 cards.
Joe Namath is one of the football cards in the game. You can see the full list of football cards in the Win-A-Card game in the Vintage Football Card Gallery.