November 21st, 2009 | Published in ABCs of Vintage Football Cards, Oddball | 4 Comments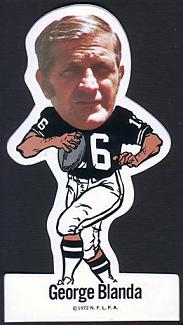 To a card collector, "oddballs" are collectible items that have some characteristics of cards–small size, two dimensions, pictures of players, team logos, and so on–but are not traditional trading cards. Some examples are coins, bottle caps, cap liners, discs, stamps, stickers, patches, pins, and playing cards. Many of them came on or in packages of food. Some were regional and featured a particular team.
I distinguish oddball items from inserts (see I is for Inserts), though some inserts also fit the description above. Why? Well, since inserts came in packs of cards, most of them are familiar to collectors, and there are enough of them to group them into a category of their own. Oddball items are the unfamiliar, the hard to categorize, the things that go under "miscellaneous." They have brand names you might never have heard of, like Glendale and Drenks and Salada.
Any number of items can be considered oddball, and I'll list just a few here. I don't collect many of them–you have to draw a line somewhere–so I'll mostly provide links to other places. The only oddballs I have in my collection are playing cards and stamps, which aren't too far removed from trading cards.
Stamps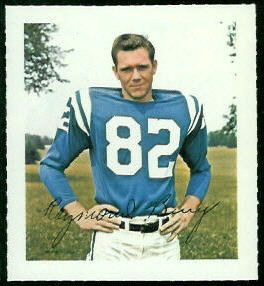 I am familiar four sets of vintage football stamps that were not inserts, and there are probably more. You can see 1964 Wheaties Stamps, 1969 Glendale Stamps, and 1972 Sunoco Stamps in the Vintage Football Card Gallery, and there is also a set of 1972 NFLPA Wonderful World Stamps, which I don't yet have. Each of the sets had an accompanying album into which you could stick the stamps. A 1964 Wheaties stamp of Raymond Berry is pictured here.
Discs
1976 was the year of the disc. Five sets of football discs were printed that year: Coke Bears Discs, Crane (potato chip) Discs, Buckman Discs, Saga Discs, and Pepsi Discs.
1976 is newer than I typically deal with, and I have never had much interest in the discs, so I don't know a lot about them. I assume that the same company printed all of them, since I don't know of any others printed before or since 1976. A friend sent me a couple of Crane Discs once; they're about the size of a beer coaster. Pictured here is one of them, Charley Taylor.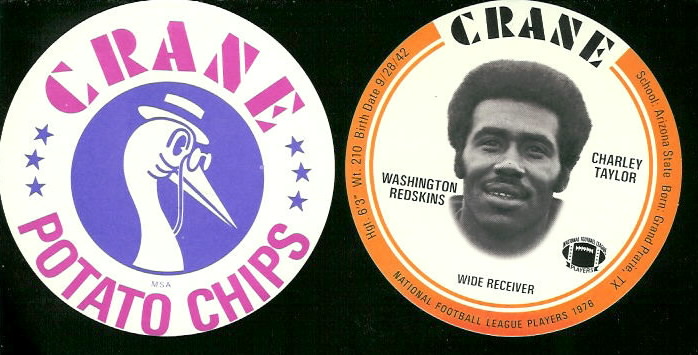 The PSA registry shows all of the players in the disc sets, and you can see lots of examples on eBay.
Playing Cards
I initially included playing cards under Oddball items, but there are enough of them that I thought they deserved their own category. See P is also for Playing Cards for a list of vintage playing cards that picture NFL and college football players.
Other Oddballs
As I said at the top, I don't own many oddball items, and my knowledge of them is limited. Here are a few more, along with links to the set compositions and some examples. As I learn more about them, I'll give these oddballs sections of their own. If I am missing your favorite, let me know and I'll add it here.
| Oddball Set | Set Composition | Examples | Notes |
| --- | --- | --- | --- |
| 1962-63 Salada Coins | PSA Set Registry | eBay | Attractive plastic coins, came with Salada Tea. |
| 1963 Nalley's Coins (CFL) | ? | eBay | Cool plastic coins of CFL players, distributed in Nalley's Potato Chips. |
| 1964 Nalley's Coins (CFL) | PSA Set Registry | eBay | Mo' Nalley's |
| 1963 Rich Dairy Cap Liners (Bills) | PSA Set Registry | PSA Set Registry | Creepy, floating Bills' heads. |
| 1965 Coke Caps | ? | eBay | More floating heads. |
| 1966 Coke Caps | ? | eBay | Still more floating heads. |
| 1969 Drenks Pins (Packers) | PSA Set Registry | eBay | Distributed in Drenk's Potato Chips |
| 1972 NFLPA Iron Ons | SGC Set Registry | eBay | Sometimes called "fabric cards." To card collectors, everything's a card. |
| 1972 NFLPA Vinyl Stickers | SGC Set Registry | eBay | I never much liked the big heads on little cartoon bodies concept. See the George Blanda sticker above. |