September 8th, 2009 | Published in Halls of Fame | 2 Comments
Dick LeBeau and Floyd Little were recently named the 2010 senior finalists for induction into the Pro Football Hall of Fame. The Hall of Fame site provides biographies for the two stars and describes the process for choosing the senior nominees.
LeBeau's rookie card is a 1965 Philadelphia, pictured here. Like many defensive stars, LeBeau played several years before a card company decided to print a card of him. LeBeau entered the NFL in 1959, and he finally got his rookie card in his seventh season.
Little's rookie card is a 1968 Topps, released in his second year. Little appeared on a lot of cards in his career, including four in the 1972 Topps set alone.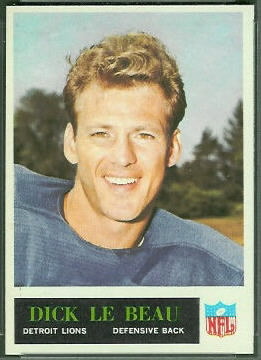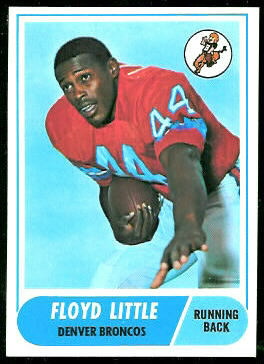 Judging by recent history, it is likely that at least one of the two senior nominees will be elected to the Hall. The Hall of Fame's senior nominees page shows that at least one senior candidate has been elected each year since 1998. Since 2004, when the senior committee began nominating two players per year, nine of the twelve nominees have been elected. One, Bob Hayes, was not elected in 2004, but he was given a second chance and elected in 2009.