September 1st, 2009 | Published in error cards, Football Card Oddities, Oddball | 5 Comments
A page at pro-football-reference.com called "Cups of Coffee" lists all of the pro football players who appeared in only one NFL, AFL, or AAFC game. Of course, when I discovered the page, I wondered if any of the players had appeared on football cards. I perused the list and came up with these:
Ronnie Knox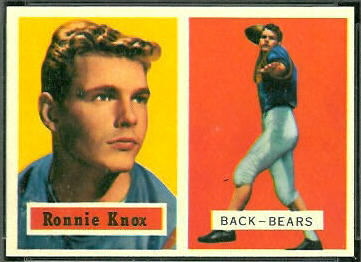 Ronnie Knox played in one game for the Chicago Bears in 1957, but he did not throw a pass. It appears that he was the fourth-string quarterback, a rookie playing behind three veterans. Topps, oddly, printed cards of all four Bears quarterbacks in 1957. Knox also spent a few seasons in the CFL, and he appeared on a few CFL cards. You can usually find them on eBay.
Buddy Allen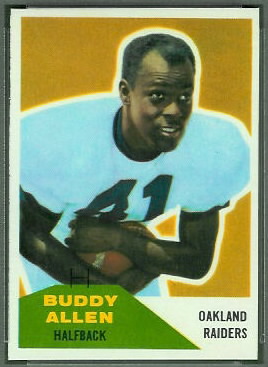 Buddy Allen had three carries in one game for the Denver Broncos in 1961. He apparently at least tried out for the Oakland Raiders the year before, because his only card is the 1960 Fleer card shown here. It is possible that he was on the Raiders' roster in 1960, but the rosters I have found online show only the players who actually played in regular season games.
Jim Yeats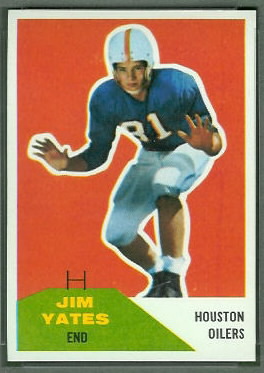 Jim Yeats appeared in one game for the Houston Oilers in 1960, but he did not have any stats. The card pictured here is his 1960 Fleer card. Unfortunately, on his only card, Fleer misspelled his name. I heard from one of Yeats's relatives a few years ago, and she told me that he was with the Packers in 1958 and 1959, and that he was still with the Oilers in 1961. He evidently did not see playing time those years.
1960 was the first year of the AFL, and the teams' rosters apparently were not final when Fleer chose the players to include on their cards. Many of the players on 1960 Fleer cards did not see playing time in the AFL.
Don McKissack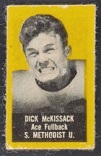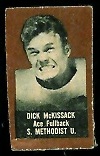 Don McKissack played in one game for the NFL's Dallas Texans in 1952, two years after he was drafted by the Los Angeles Rams. If you count variations, he appeared on two cards in the 1950 Felt Backs set: a brown one and a yellow one. (The price guides assign higher prices to the yellow 1950 Topps Felt Backs, but the brown ones are actually scarcer.)
Mark Burke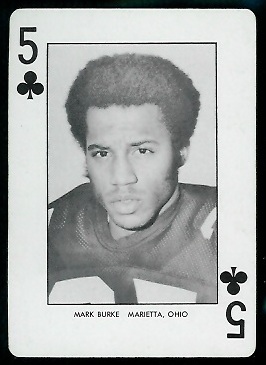 Mark Burke saw playing time for the Philadelphia Eagles in the last game of the 1976 season. He returned one punt for fourteen yards, not too shabby. He appeared on the 1974 West Virginia playing card pictured here.
Steve Haggerty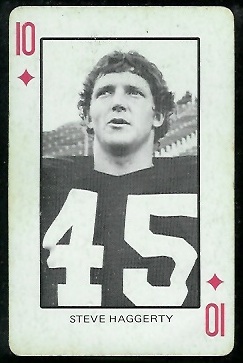 Steve Haggerty played in one game for the Denver Broncos in 1975, but he did not get any stats. Here he is on a 1974 Colorado Playing Card, though he had transferred to UNLV for the 1974 season.
Larry Joe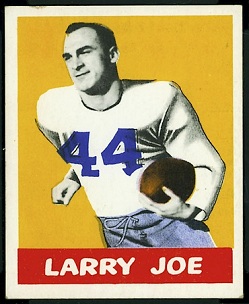 Larry Joe played one game for the AAFC's Buffalo Bills in 1949. He had a pretty good game, gaining 82 all-purpose yards. Joe appeared on a 1948 Leaf football card–one of the tough high numbers–with Penn State. I did a quick web search for Joe and found that he still holds the Penn State record for career kickoff return average.