August 17th, 2009 | Published in error cards | 7 Comments
A few months ago I created a page called Mistaken Identities: Vintage Football Cards Picturing the Wrong Player. The page shows numerous cards that show the wrong player in the main photo. I learned from my Beckett catalog, though, that there are also a bunch of 1962 Topps cards that picture the wrong player in the black-and-white inset photo. What's more, it appears that Topps faked a couple of these photos intentionally, altering the impostor's jersey number to match the player on the card.
Here is one of the altered jersey numbers: the inset photo on Zeke Bratkowski's 1962 Topps card actually shows John Unitas, with his number changed from 19 to 12. Topps apparently couldn't find a good game photo of Bratkowski, though he had been in the league for eight years. It's too bad, because Bratkowski took great action shots. On his his 1962 Post Cereal card, he's throwing while going down, and on his 1958 Topps card, he's leaping over palm trees!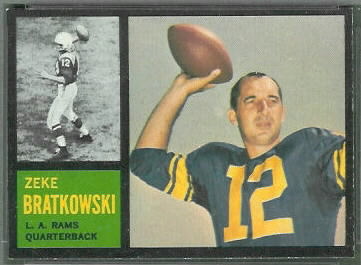 The second altered jersey is on Fran Tarkenton's rookie card. Beckett says that it's Sonny Jurgensen in the inset photo, with his number changed from 9 to 10. It's hard to tell from the photo, but did Topps leave the Eagle wings on Jurgensen's helmet?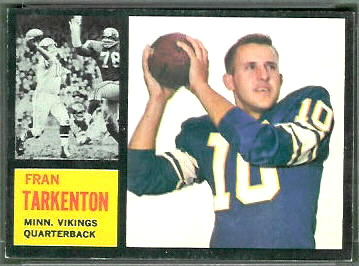 The third impostor is on Roman Gabriel's rookie card. On this card, the player in the inset photo is clearly Y.A. Tittle. It is understandable that Topps didn't have an NFL game shot of Gabriel, since 1962 was his first year in the league. This time they didn't try to fool us: they just picked out a nice quarterback photo and called it good.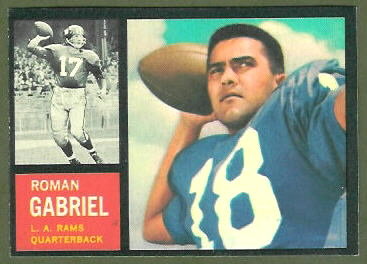 Last, we have a couple of Redskins. That's Don Bosseler pictured in the inset photo of Dick James's card. Bosseler didn't appear in the 1962 Topps set on a card of his own, so it's nice that they gave him a cameo. (He did, however, appear on a 1962 Post Cereal card.)