July 21st, 2009 | Published in Adventures in Card Dealing, General Collecting Info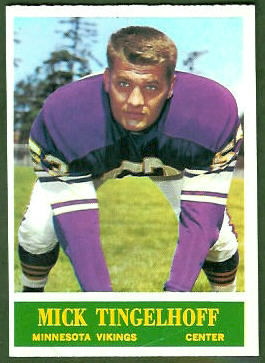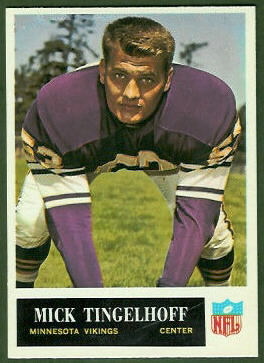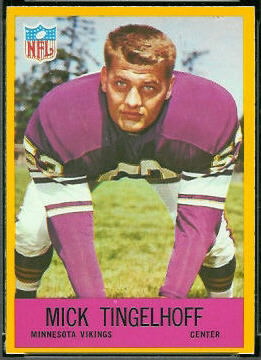 A customer once bought a Lions team card from me because his friend played for the Lions the year the card was printed. Unfortunately, his friend wasn't in the picture, and the customer got upset. What he didn't realize is that the card companies would use the same photos year after year, and the photo on his team card was an old one. I explained and offered a refund, but I didn't hear back from him.
Here are the cards I used to demonstrate to him that I wasn't making it up. The Philadelphia Gum Company used the same image of Mick Tingelhoff in 1964, 1965, and 1967. (They used a different image in 1966, but it wasn't as good as this one.) If you browse through the Football Card Gallery, you can find many more instances where the card companies reused photos. Joe Namath is another good example: look for the Band-Aid on his head in cards from 1968 through 1970.
Sometimes the companies would even recolor the player's uniform if he happened to change teams. John Henry Johnson's 1957 Topps card, which I showed in an earlier post, is a great example–though in this case, Topps got John Henry's new team wrong.