April 11th, 2009 | Published in Uniforms | 1 Comment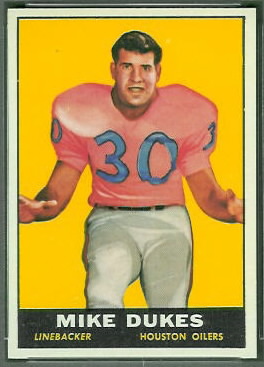 A recent cover of Sports Collectors Digest, headlined Pretty in Pink, pictured a group of 1959 Topps football cards with pink backgrounds. Great cover, I thought, and it reminded me of the 1961 Topps cards of the Houston Oilers. On all but one of the Oilers cards in that set, the player is shown in a pink jersey.
As far as I know, the Oilers wore only the light blue jerseys shown on their 1961 Fleer cards. Topps evidently airbrushed the blue jerseys pink, but why? Topps headquarters is in New York City, and the New York Titans finished second to the Oilers in the AFL East in 1960. Might a Topps employee have colored the Oilers pink to exact a bit of revenge for his team?