January 17th, 2009 | Published in Autographs, Football Card Trivia, Player Bios | 1 Comment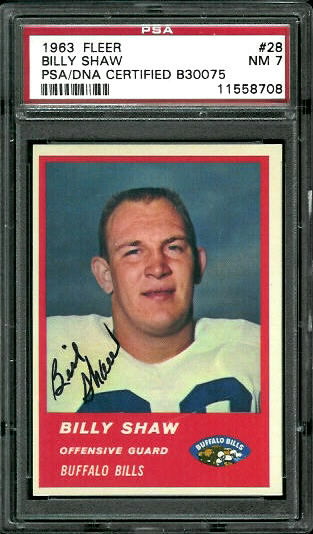 Last Saturday evening I was drinking beer and cruising the web, and I saw this autographed 1963 Fleer Billy Shaw card on eBay. That's cool, I thought, and the price seemed right, so I hit the Buy-it-Now button. So now I have the beginning of an autograph collection.
This is Billy's second card, his first being his 1962 Fleer rookie card, a tough one to find in high grade. Billy is the only pro football hall-of-famer to have played only in the AFL. Other AFL players have made it to the hall-of-fame, of course, but each of them also played in the NFL at some time, mostly after the AFL-NFL merger.
My new Shaw card happens to be the version with the red stripe on the bottom on the reverse. 1963 Fleer cards with numbers divisible by four were printed both with and without the stripe, and Shaw is card #28. I don't have a Shaw without the stripe, unfortunately, but I do have one of each of card #40, Jim Norton, pictured below. Like the purple and blue variations of 1963 Topps cards, the striped vs. non-striped variations of 1963 Fleers are not recognized by Beckett, PSA, or any other football card authority that I am aware of.