December 31st, 2008 | Published in Funny Poses, Sites I Like, Uniforms | 1 Comment
The Helmet Project has hundreds of beautiful illustrations of professional and college football helmets past and present. It includes helmets of teams from defunct professional leagues such as the XFL, USFL, WFL, and WALF. It also includes college helmets down through NCAA Division 3 and NAIA.
Shown here are most of the helmets the Denver Broncos have used since their first season in 1960. Personally, I like the old cartoonish figures more than the current angry horse head, but I suppose cartoon figures aren't intimidating enough these days.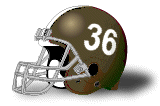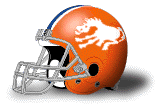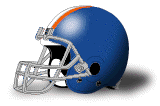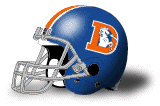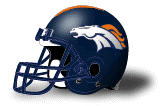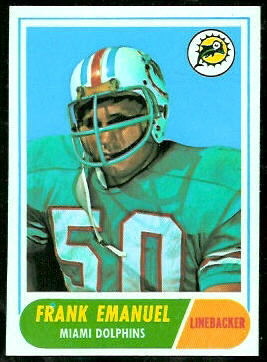 Not many football cards show the players wearing their helmets, since the facemasks cover the players' faces. Frank Emanuel's 1968 Topps card, shown here, is one exception, and as you can see, it turned out badly. Wise photographers who wanted helmets in the pictures asked the players to hold them.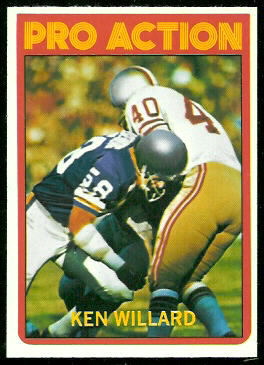 Because Topps did not have the rights to reproduce team logos on its cards, in the 70's the company airbrushed the logos off the helmets. This made for some ugly cards, this 1972 Topps Ken Willard in Action card being one example. Topps also realized that they could use airbrushing when a player was traded, to change his uniform from one color to another without having to take another picture. This made for some very ugly cards, but that's a topic for another day.
To see all those missing helmet logos, do check out The Helmet Project!